Our Asphalt Shingles Products

Axe Toitures recommends BP Mystique 42 shingles products
Mystique 42 is a 42 inch Laminate asphalt shingle made from a fibreglass mat and surfaced with mineral granules. Mystique 42 is covered by a Lifetime Warranty. Its standard wind Warranty covers up to 180 km/hr (110 mph.)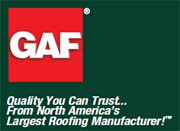 Axe Toitures offers GAF's Timberline HD asphalt shingles products
TimberlineMD High DefinitionMD Shingles are unlike any others, thanks to our patented High DefinitionMD shadow bands. Each shadow band is applied using a sophisticated, computer-controlled "feathering" technique. When combined with our randomly blended top layer, it results in a shingle with exceptional depth and dimension, and a striking look unmatched by any other brand.
Value And Performance In A Genuine Wood Shake Look
Great Value... Architecturally stylish but practically priced with a Lifetime limited warranty.
Beautiful Look... Features GAF's patented "High Definition" color blends and enhanced shadow effect for a genuine wood shake look.
Safer... Class A fire rating from Underwriters Laboratories, the highest rating possible .
High Performance... Designed with Advanced ProtectionMD Technology, which minimizes the use of natural resources while providing superior protection for our home.
Stays In Place... Dura GripMC Adhesive seals each shingle tightly and reduces the risk of shingles blow-off. Shingles warranted to withstand winds up to 130 mph.
Peace Of Mind... Lifetime limited transferable warranty with Smart ChoiceMD Protection (non-prorated material and installation labor coverage) for the first ten years.
Perfect Finishing Touch... Use TimbertexMD Premium Ridge Cap Shingles.